FEBRUARY 1998 PMCC BULLETIN PAGES 7 & 14
The Appalachian Trail
The Postmark Adventures of Kelvin Kindahl, Part 2
March 17 - I found the Powder Springs, Tenn., post office several miles before I expected it. It was in a tiny store off the main highway. It is apparently now a CPO (of Washburn, I believe). The sign in the window says "Powder Springs Community Post Office." I got there a few minutes after closing time, but the lady was still there. She told me she wasn't allowed to use the postmark after 5 p.m., but would be happy to cancel my cards in the morning and mail them to me.

March 20 - Eidson moved into a new trailer building Oct. 15, 1996. The new building shares a driveway with the now empty old building, which was less than half the size of the new one, which is only a trailer.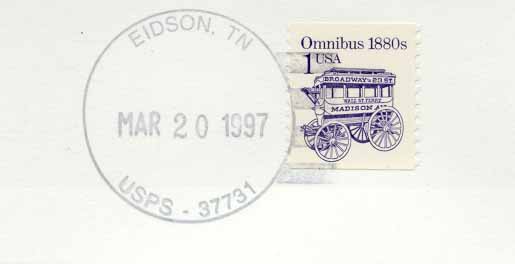 The next town up the road from Eidson is Kyles Ford. I found the post office, a CPO of Sneedville, with no problem. It is at Walter Willis' service station. Unfortunately it had been closed just two days earlier.

Mr. Willis told me he had sold the business and the new owners didn't seem to want the post office. There was a petition on the counter, asking that the post office be reopened, which seems unlikely to me. When I got to Sneedville, I spoke to the postmaster. He told me more details than Mr. Willis had.


Apparently the existing contract between Mr. Willis and USPS was automatically voided when Mr. Willis sold the business. The new owners had shown no interest in making arrangements to continue the CPO. The sale had already occurred.

The last day of the CPO (March 18) was the day the Sneedville postmaster had learned of the sale and had gone up to Kyles Ford to remove all USPS property, including the postmarking devices, stamp stock, and all blank money orders.
The Sneedville postmaster didn't seem too happy with the way the whole thing had been handled and didn't appear very interested in reopening the CPO either. I did get the impression that if the new owner of the business wanted the post office, it might be reopened. However, it doesn't seem like they want it and USPS doesn't seem interested in soliciting other bids for it, either.
The Kyles Ford postmark (they had only one bullseye dater) was right there at the Sneedville post office, but the postmaster wouldn't postmark my cards with it. After a little more conversation, though, he decided that giving me a few examples of it would be OK, as long as they were not on a stamp. Therefore, I got a few last day postmarks on blank cards.
Cancels from the Appalachian trail:
Eidson, TN
Hulen, KY
Kyles Ford, TN
Powder Springs, TN
Sneedville, TN