APRIL 1998 PMCC BULLETIN PAGES 11 & 24
The Appalachian Trail
The Postmark Adventures of Kelvin Kindahl, Part 4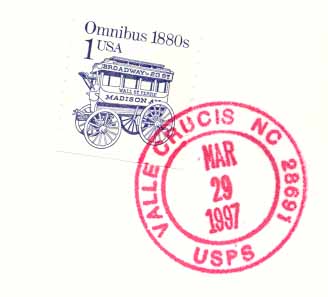 March 31 - A Valle Crucis CPO, Banner Elk, N.C., is located inside the Mast General Store, a huge, old-time country store that has managed to stay in business by adapting well to the current tourist and ski resort clientele in the area.
Station #1 of Mooresville has a postmark worded "Contract Station Mooresville, NC 28115," but it doesn't say "No. 1." This is the first contract station I have ever found in a self-storage business.
April 2 - Went to several small, pleasant post offices in the northwest corner of North Carolina, then cut through the northeast corner of Tennessee to Damascus, Va. Damascus is an important "trail town," one of the few that the Appalachian Trail walks right through.
Damascus is an important resupply point for hikers, and most will take a day or two off here. A trail shelter that was being replaced some years ago was rebuilt in the town park, which is right on the trail.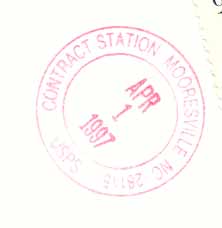 One of the ways most through hikers resupply themselves is with mail drops. They have packages of food or supplies mailed to them, General Delivery, at post offices along the way. Post offices such as Damascus handle a fair amount of "hiker mail."
April 3 - Another day spent largely in northwest North Carolina, plus a few towns in Virginia. I skipped the most unusual post office in the area, Scottville, because I had been to it once before.
Scottville is some sort of branch of Laurel Springs. It is not a CPO or contract branch, and is run by a USPS employee, not someone contracting to run the post office.
The employee who runs it is the Laurel Springs rural carrier. He does his normal route until he arrives at Scottville at about 9:30 a.m. He then opens Scottville for business until 11:30 a.m., when he closes it and completes his delivery route. As far as I could tell, the opening time varies depending on how busy the carrier is before arriving there.
This is apparently a new type of branch, one that doesn't quite fit any of the traditional definitions. I know of one other place that operates in a similar manner, and that is East Jewett, N.Y. Incidentally, both Scottville and East Jewett are inaccurately listed in the PMCC state directories as CPOs.
April 8 - Went into West Virginia for the first time. The trail walks very near the state, and for a while follows a ridge that forms the state line. But except for the extreme eastern corner of the state, at Harper's Ferry, the trail doesn't go into West Virginia.
The state appears to have good roads, but doesn't believe in labeling them. This part of West Virginia is coal mining country, which is great for post office hopping. There are usually many small towns close together, many of which still have post offices.
April 9 - Started the morning in Bluefield, Va., then went to Bluefield, W. Va. Bluefield is a small sectional center, quite a bit more compact than some I have seen. Its area is a small portion of southern West Virginia and adjacent Virginia.
The Bluewell (CPO) office serves a suburban neighborhood. It is located in an athletic supply store, a type of business I hadn't previously seen containing a post office.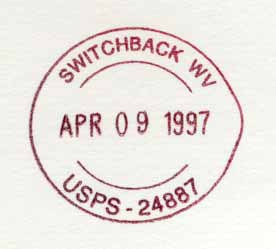 Switchback is down by the river, on Old Powerhouse Road, with no sign for the town of Switchback. Old Powerhouse Road sure hadn't seen a good paving job in many years. The road goes under a train track, where the underpass is shared with a creek. The road and creek are both about the same width, not much wider than my truck. The post office is in a tiny house on the dead-end main street.
Cancels from the Appalachian trail:
Bluefield, VA
Mooresville (CS), NC
Switchback, WV - 1971
Switchback, WV - 1997
Switchback, WV - 1997a
Valle Crucis, NC