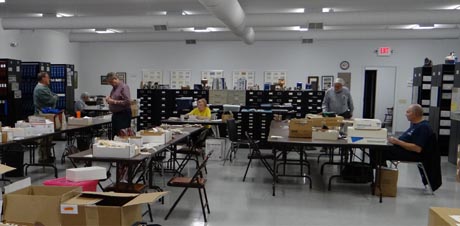 Here are descriptions and images of many of the collections within the PMCC Museum:
Primary Collection
The museum's
Primary Collection
consists of full covers and postal cards.
The goal of this collection is to preserve an example of every unique cancellation imprint (or example from any other dating device unique to a place) and die-hub machine cancel. Such can include multiple four-bar cancellations and machine cancels from a given post office. The Primary Collection is separated by state, then sorted alphabetically by post office, and then by postmark type.
Every item in the primary collection is protected by an archival sleeve. The collection is continuously updated as new material arrives at the museum -- primarily through donations.
California, New York, and Ohio represent some of the permanent collection's largest holdings.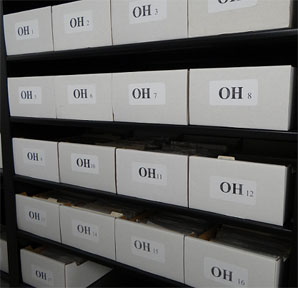 Ohio is well represented in the PMCC Museum's full cover holdings.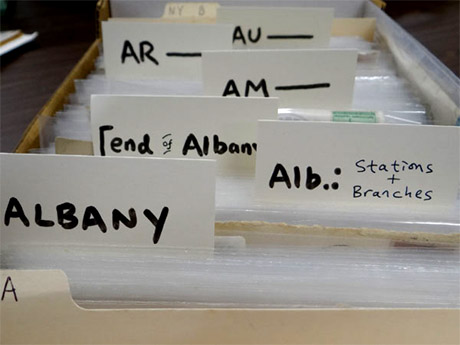 [ ↑ ] 'A' part of the full cover collection for New York State
Reference Collection
A two-by-four cancel from Drewry, AL in the Reference Collection
While the Post Mark Collectors Club does not condone cutting full covers, the organization preserve postmarks from philatelic items that have been trimmed. After all, it it was standard practice for a half-century to trim covers to 2"x4" for storage. The PMCC Museum receives many donations of trimmed items and proudly preserves them as they are.
A large cabinet houses the museum's sizable
Reference Collection
of pieces cut to 2 inches by 4 inches, which is continuously strengthened along with the full cover collection. A sample postmark from this collection is shown at right.
The Museum also maintains separate collections of older, smaller square-cut and round-cut postmarks.
Willett-Thompson Collection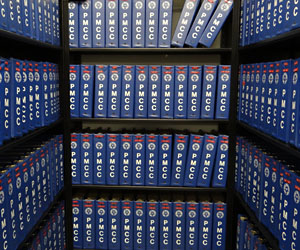 Part of the Willett-Thompson Collection at the PMCC Museum
The
Willett-Thompson Collection
, now in the PMCC Museum, is one of the most extensive single postmark collections known. The PMCC has mounted this collection on acid-free paper and preserved them in mylar page protectors. The Collection occupies more than 300 binders, some of which can be seen at right.
Not only are many postmarks in this collection rare, but several cancels are the only postmark examples from particular post offices known to exist today.
The Willitt-Thompson Collection has been scanned, and is available to any interested party for order on CD
here
.
Photographs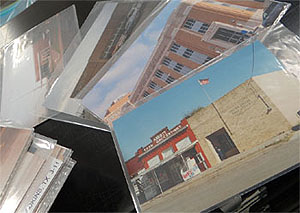 Texas post office photos in archival sleeves
The PMCC Museum features a cabinet with more than 55,000 sorted post office photos and viewcards. Each photo, as with every full cover in the museum's primary collection, is protected within an archival sleeve. Most photos measure either three-by-five or four-by-six inches. Images of WPA art installed within post office buildings are also included within the collection.
The states represented with the most post office photographs in the physical collection are California and New York, with more than 2,500 images apiece.
The PMCC's
online Post Office Photo collection
is largely independent from (and much smaller than) the museum's physical collection.
The PMCC Museum also houses sizable collections of:
Pictorial Cancellations.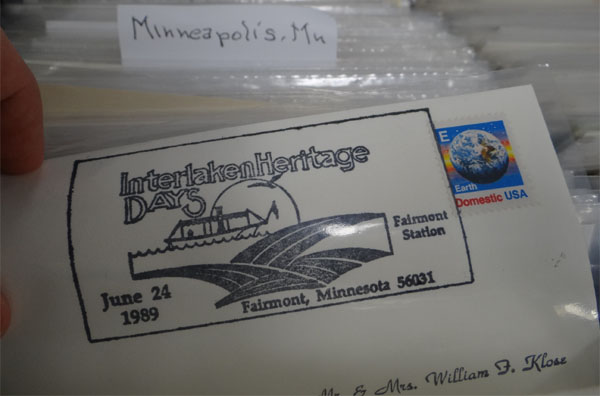 First Day of Issue Cancels.
(Below: sorting in progress.)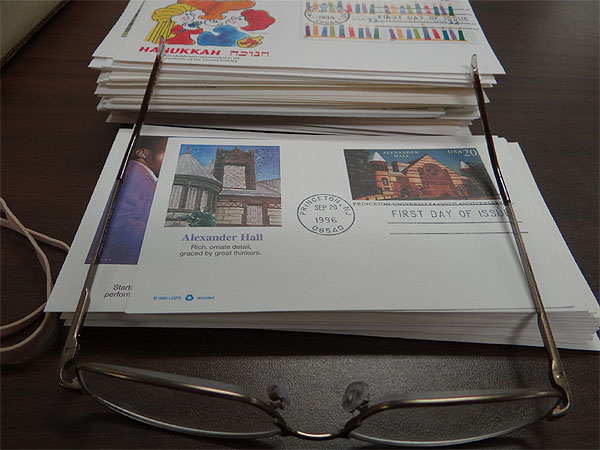 7-1-71 Cancels,
inaugurating the first day of the U.S. Postal Service.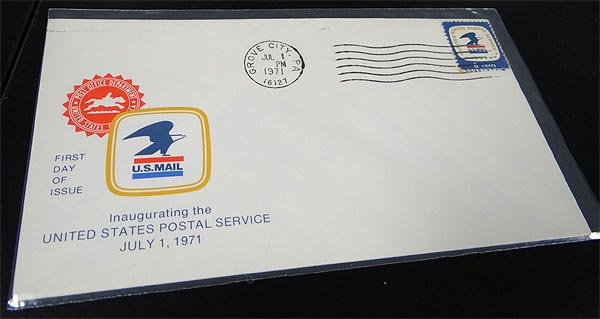 ---
The museum possesses an unparalleled collection of slogan cancels. Further collections include RPO (Railroad Post Office) and HPO (Highway Post Office) cancellations, as well as military postmarks. Finally, modern ink-jet ("spray-on") cancels also find a place in the museum. In the far corner there's an extensive postal reference library.
All work within the museum is conducted by enthusiastic volunteers, primarily during
PMCC Museum Work Weeks
.