POST MARK COLLECTORS CLUB - POST OFFICE PHOTOGRAPH COLLECTION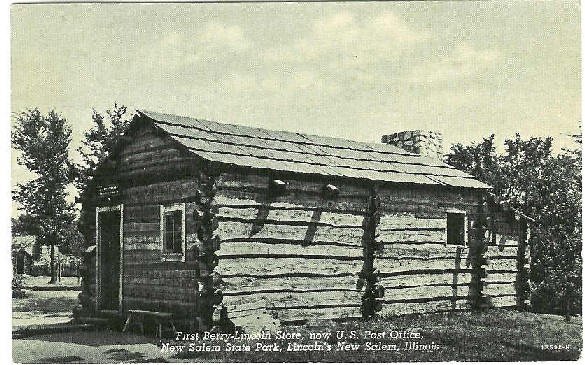 Post Office: Lincoln's New Salem, IL (Sangamon County)
Date of Photo: circa 1940s
Contributor: Paul E. Petosky, Postmarks from the Past
Comment: Originally established as NEW SALEM on November 25, 1829 with Samuel Hill as its first postmaster; Isacc N. Chrisman on November 24, 1831 and Abraham Lincoln from May 7, 1833 to May 30, 1836 when the office was discontinued. This post office was re-established as LINCOLN'S NEW SALEM, IL on February 12, 1940 and discontinued operation in 1974. Berry and Lincoln bought this store in 1833 from the Herndon Brothers. Historic New Salem State Park is located near Petersburg on Highways 97 and 123 about 17 miles northwest of Springfield, IL. It is important to note that another NEW SALEM, IL Post Office (Pike County) was established on April 25, 1848 with John Sevier as its first postmaster. This post office is still in operation today using zip code 62357.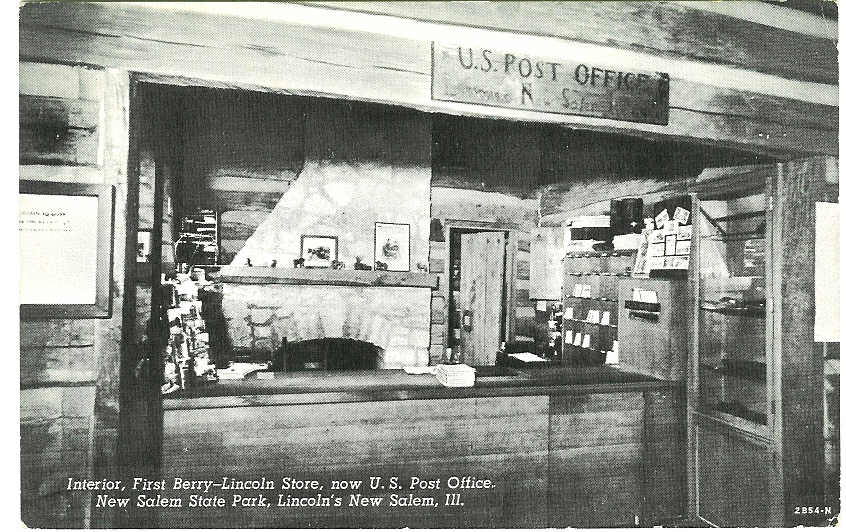 Post Office: Lincoln's New Salem, IL (Sangamon County)
Date of Photo: circa 1940s
Contributor: Paul E. Petosky, Postmarks from the Past
Comment: Interior view.